In an effort to back its recent legislative
proposal
aiming at the establishment of an internal market in the field of telecommunications, the Commission has
published
a survey concerning the connectivity behaviour of European citizens when travelling across the continent.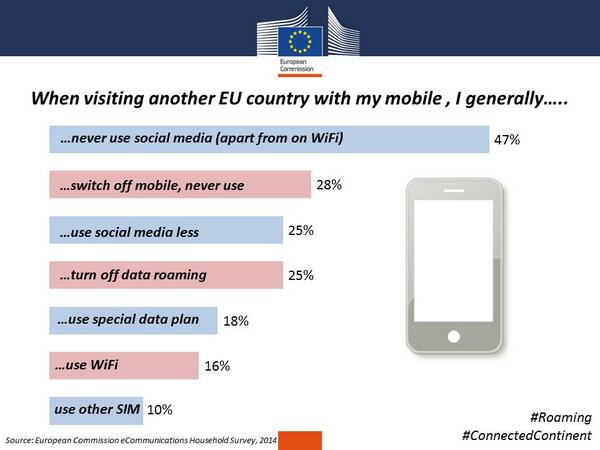 According to the survey (which also provides disaggregated
country results
), almost all European citizens (94%!) adapt their telecom habits when spending time abroad. This happens to a dramatic extent with regard to mobile internet services, which we simply tend to dispense of when roaming is involved, but "traditional" communications are not spared either (apparently, roughly a quarter of Eu users simply switch their phones off).
Perhaps not so surprisingly, frequent travellers do not seem more at ease with roaming than occasional ones. To the contrary, experience might make consumers even more cautious, especially as far as data roaming is concerned.
The situation, says Commission's VP Neelie Kroes, doesn't make sense from an economic point of view: if roaming costs disappeared, consumers would simply... well, "consume" more telecom services. Telecom companies, unfortunately, don't seem ready to give up their current gains to invest in this perspective growth. This is why the Commission has repeatedly intervened in the market in introduce "caps" on the prices that companies can charge for roaming services.
The proposed "Connected continent" regulation would eliminate roaming altogether, creating a real single market for telecoms. This would not only mean that travellers may stop worrying about roaming, but also that consumers in general could pick their operator among all of those operating in Europe, irrespective of where they live.